Swedish Fruit and Nut Bread with wholegrain spelt flour

Swedish fruit and nut bread is a juicy and tasty bread that goes perfectly with aged cheeses.  I made my recipe using wholegrain spelt flour, but feel free to swap it out for your preferred flour. There's no butter or eggs in the recipe only fruit, and nuts An easy-to-bake loaf bread. It is best left overnight before slicing.  It is a large loaf and the bread is best sliced thin and eaten either fresh or toasted. The texture is dense but absolutely delicious.
Takes = 10 minutes prep. and 135 minutes resting
Bakes = 40 minutes
Makes = 16 to 20 thin slices
Tin = large loaf 12 inch x 4 inch
Inspired and translated from this Swedish recipe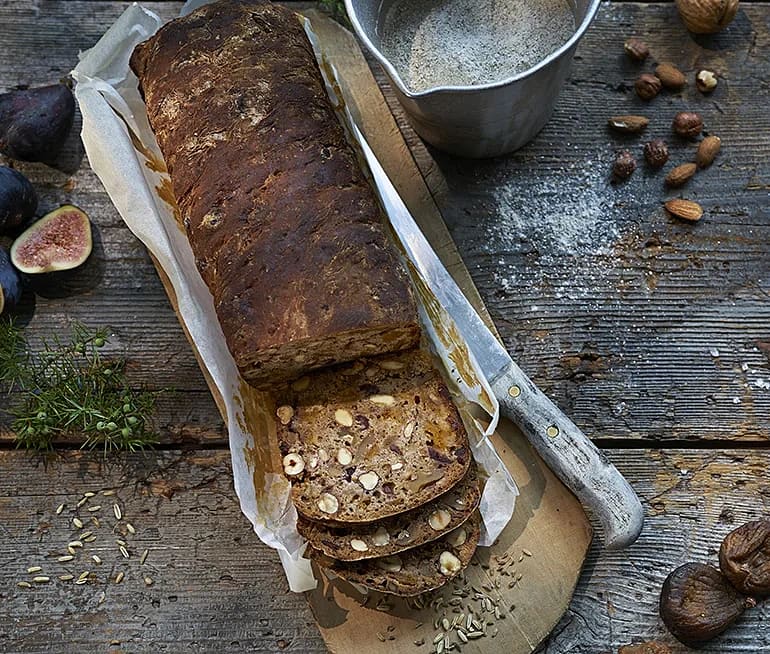 Ingredients
Fresh yeast (or dried yeast 1 teaspoon) –10g (2 teaspoons)
Water, room temperature – 300ml (1 cup + 3 tbs +1 teaspoon)
Dried figs, chopped – 200g (about 1 cup + 1/4 cup)
Dried apricots, halved – 200g (about 1 cup + 1/4 cup)
Dried cranberries, raisins or sultanas – 100g (1/2 cup)
Hazelnuts or blanched almonds – 120g (about 3/4 cup)
Walnuts – 100g (about 1/2 cup)
Flour, I used wholegrain spelt flour – 360g (2 cups + 2.5 tbs)
Salt – 1 teaspoon
Method
Preheat oven to 160˚C fan, and lightly toast the nuts for 8 to 10 minutes. Then remove and allow to cool.
Crumble the yeast into the water.
De-stem and chop the figs and slice the apricots in half.
Add yeast, fruit and flour into the stand mixer and mix for a few minutes with a dough hook or mix by hand in a large bowl. Then add in the nuts and salt and continue to knead for about 5 minutes. I found I needed to stop and scrap as the mixture is very thick and knead the last part by hand. Rest for 1 and 1/2 hours. Cover with a cloth or I like to remove the dough and place it in a medium lightly oiled bowl and cover it with plastic (it tends to seal better and helps the dough rise).
Prepare the baking tin. Grease with a bit of butter and line with baking paper a large long rectangular loaf tin of about 1.5 litres (12 inches x 4 inches).
After 1.5 hours, remove the dough and gently knead on a floured bench to form a rectangle. Place the dough in the prepared tin and rest covered for 45 minutes. Preheat oven to 200˚C, 180˚C fan then bake the bread in the lower part of the oven for 40 minutes. After 30 minutes you may need to cover the top with foil to prevent the top from burning.
Remove from the oven and completely cool before removing from the tin. The bread is best sliced thinly and served the following day. You could also freeze the bread for a few months.